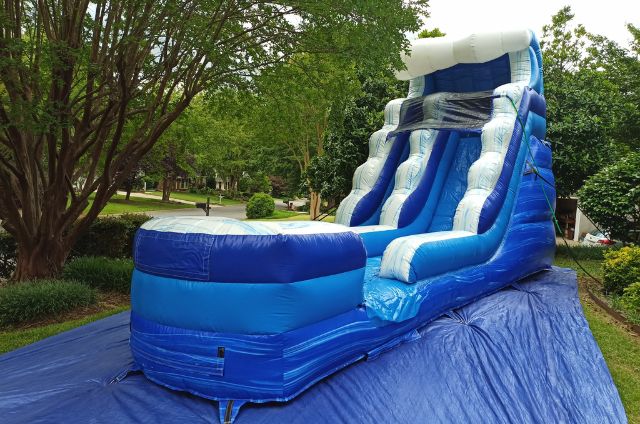 Featured Water Slide Rental
15' Tidal Wave Water Slide
Elevate your summer celebrations with the 15' Tidal Wave Water Slide! Whether you're looking to cool off on a scorching South Carolina day or seeking a thrilling adventure, this slide has got you covered. Designed for both wet and dry fun, it's versatile for any occasion. The built-in misting system ensures a smooth and splashy descent, while the safe water level keeps the fun going for kids of all ages. Its vibrant colors and dynamic design promise not just a slide, but an experience. Turn your backyard into a water park and create memories that will last a lifetime. Dive in, slide down, and let the tidal wave of joy wash over you!

WHAT'S INCLUDED:↓

- Extension Cord
- Blower
- Safety Stakes or Sand Bags to secure to ground
- Tarp
- Hose

WHAT YOU'LL NEED:

- Enough space for us to set up your rental
- Electric outlet within 50 feet of the setup area
- Water source if renting a water unit
Book Online Now
A Splashy Summer Soiree: Water Slide Rental Memories
The sun hangs high in the South Carolina sky, casting a warm golden hue over the backyard. Children's laughter fills the air, harmonizing with the distant chirping of birds and the gentle rustling of leaves. It's the kind of day that beckons families outside, a day where memories are just waiting to be made.

In the center of it all stands the majestic inflatable water slide rental from Party To Go, with vibrant colors shimmering under the sun. As parents, we often find ourselves in search of that perfect element to elevate our children's summer parties, and this is it. A water slide rental isn't just a slide–it's an emblem of joy, a beacon of fun, and a promise of unforgettable moments.

Imagine the thrill in your child's eyes as they climb to the top of the water slide rentals, their little hands gripping the handles, their feet eager to reach the top. The anticipation is palpable, the excitement contagious. And then, with a gleeful shout, they launch themselves down the water slide, the cool water spraying around them, creating a misty aura of magic. The world becomes a blur of blue and green as they descend, only to be greeted by a refreshing splash at the bottom. The joyous shrieks that follow are the kind that etches itself into a parent's heart, the kind that reminds us of the simple joys of childhood.

But it's not just about the water slide or the splash. It's about the moments in between. It's the proud smiles exchanged between parents as they watch their children play. It's the spontaneous water fights that erupt, where even the adults can't resist joining in. It's the way neighbors become friends, and friends become family, all united by the shared experience of pure, unadulterated fun.

At Party To Go, we understand the essence of these moments. We're not just providing water slide rentals–we're offering an experience, a solution to the age-old question of how to make your child's party truly special. Our commitment goes beyond the product. From the moment you reach out to us, to the seamless setup, and even after the last drop of water has dried, we're with you every step of the way. Our mission is to ensure that your event is not just a party but a cherished memory.

In the world of Party To Go, every water slide rental is a story, every splash a memory. Let us help you write yours. When you search, "water slide rentals near me, you can reserve your favorite with Party To Go, and we will take care of the rest!
We Handle The Details, You Enjoy The Fun!
When planning a party or event, it's often the little details that can make or break the experience. At Party To Go, we've honed in on this truth, ensuring that every aspect of your water slide rental is taken care of, down to the smallest detail.

Imagine the peace of mind of knowing that when you reserve water slides for rent from us, it's not just about the main attraction. We also provide all the necessary accompaniments like tarps to protect your grounds, extension cords to power the fun, hoses to fuel the splash – every item is thoughtfully included. This means no last-minute runs to the store, no frantic searches for a missing piece, and certainly no dampening of spirits.

Our commitment is to offer a holistic experience. One where you, the host, can immerse yourself fully in the joy of the moment, confident in the knowledge that everything is in place. With Party To Go, it's not just about water slides for rent, it's about embracing a worry-free celebration where every detail is handled with precision and care.

With Party To Go taking care of all the little things, you can sit back, relax, and revel in the joy of watching your kids have the time of their lives, without a single worry about the details.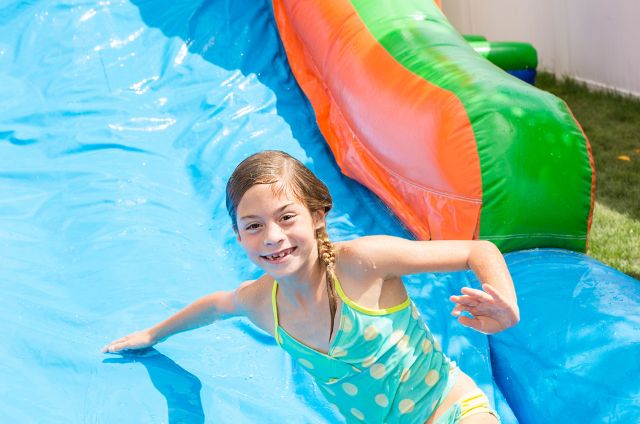 Party To Go: Where Character Meets Convenience
In the Upstate, Party To Go stands as a beacon of trust, quality, and unparalleled service in the realm of water slide rentals. We're not just a party rental company–we embody the values of community-building, orchestrating meaningful interactions, and fostering bonds that last a lifetime.

Character That Shines Through Every Service
Our character is our guiding light, influencing every decision we make and every service we offer. We firmly believe that every event, from a child's birthday party to a grand community gathering, deserves nothing but the best. And for us, the best isn't solely about the top-notch quality of our inflatable rental water slides; it's about the comprehensive experience we provide from the moment you choose us until the final goodbyes of your event.

Hassle-Free From Start to Finish
Planning an event can be a daunting task with numerous details to consider. With Party To Go, we aim to alleviate some of that stress. Our commitment to a hassle-free experience ensures that when it comes to water slides for rent, everything is taken care of. Our all-inclusive service not only covers the delivery, setup, and takedown of your chosen rental but also includes everything you need to power your inflatable water slide rental, from tarps to extension cords and hoses. With no hidden charges, you can rest assured that our team will handle every detail with precision and care, ensuring your event unfolds seamlessly.

Customer Service That Truly Cares
At the core of Party To Go is a dedicated team that genuinely cares. Our customer service goes beyond merely answering questions. We strive to understand your vision for your event and work diligently to bring it to life. Every interaction with our team, be it with our customer service representatives or our setup crew, is a testament to our values of kindness, humility, and respect. We're here to listen, act, and ensure that every concern is addressed and every need is met.

Easy Online Ordering: A Breeze of a Process
In this digital age, we recognize the importance of convenience. That's why we've designed our online ordering process to be as straightforward and intuitive as possible. A few clicks on our user-friendly platform allow you to browse our extensive inflatable water slide rental inventory, select the ideal rental for your event, and finalize the date and time. And if you ever find yourself with questions or in need of assistance, our team is just a call or click away.

Party To Go: More Than Just a Name
Party To Go is more than just a name–it's our commitment to you. A commitment to quality, trust, and creating memorable events. Every interaction, every service, and every rental reflects our character and dedication. Because in the grand scheme of things, it's not just about the party. It's about the cherished memories, the strengthened bonds, and the shared joy.
Do You Deliver Water Slide Rentals Near Me?
Our Service Area
Proud to Serve The Following Areas:
If your party or event is beyond that radius, just let us know! We may be able to make special accommodations to suit your event.
NOTE: Fees may vary depending on how far you are outside our service area.
https://www.google.com/maps/d/u/1/embed?mid=17AtRXWa4YzuEnTxKmOu3RxQo5fY80lA&ehbc=2E312F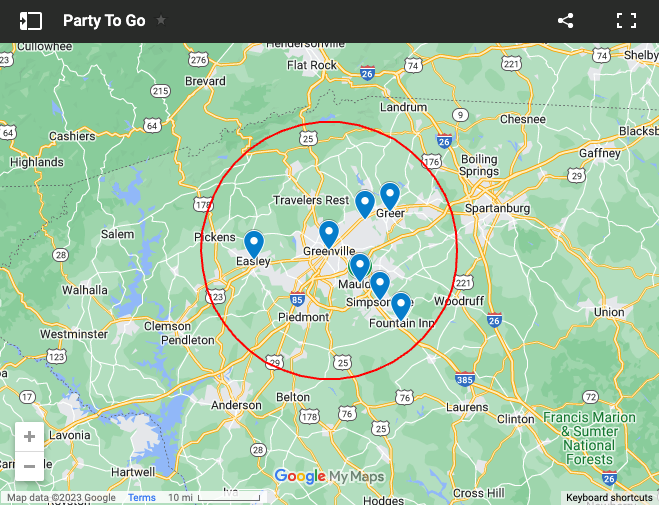 Customers Who Rent Water Slides Also Shop For: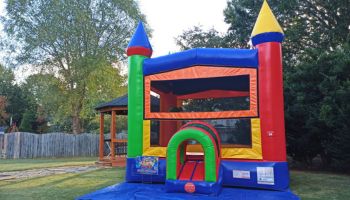 Bounce Houses
Leap into a world of laughter and joy with a bounce house rental Whether it's a birthday bash or a neighborhood get-together, our bounce houses are the perfect playground for boundless fun.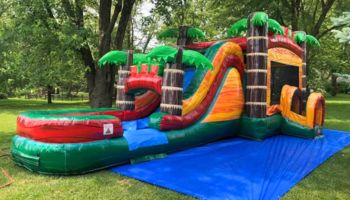 Bounce House With Slide
Interested in a bounce house and a slide? Get the best of both when you rent a combo bounce house with slide! Bounce houses with slides are the perfect solution for dual-purpose party entertainment!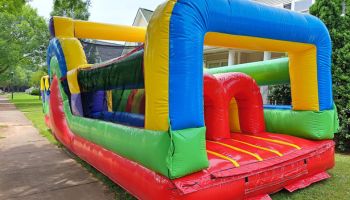 Obstacle Courses
With thrilling twists, turns, climbs, and slides, obstacle course rentals offer a dynamic play experience for kids and adults alike for the promise of a heart-pounding, fun-filled adventure.
Frequently Asked Questions About Renting Water Slides
Do you include setup and delivery?
Yes, although additional fees may apply for areas farther out. Remember prices do not include sales tax.
Do you deliver to other cities?
Yes, we do! We serve in and surrounding Greenville, Parker, Gantt, Berea, Wade Hampton, Mauldin, Taylors, Simpsonville, Greer, Easley, Spartanburg, and more.
How much do bounce house and water slide rentals usually cost?
It just depends on what bounce house or water slide you want. Generally, it ranges from $225 to $450 for a 6-hour rental.
Does the standard 6-hour rental time include your setup time?
No. We arrive early to set up so you get the entire rental time to play.
That depends on how many rentals we have that day. Generally, we arrive 1-3 hours before the rental time begins. If we have a lot of rentals that day, we may need to set up as early as 4 hours in advance.