All of Our Party Rentals Are Sure To Bring Smiles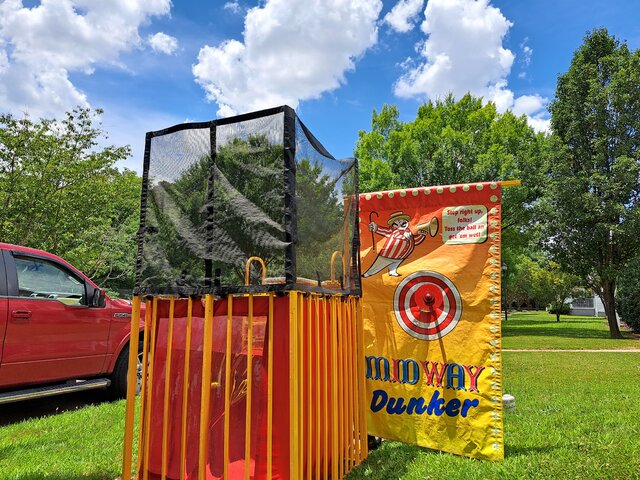 Yellow Carnival Dunk Tank
Setup Area: 10' x 10' x 15'





Available Booking Options

Up to 6 Hours

Displayed Price

7-10 Hours

+15%

Overnight
(Picked up after 7:00am)

+30%

Weekend Special
(Fri before 2pm - Sun after 4pm) or
(Sat before 12pm - Mon after 12pm)

BEST DEAL

+50%



Free Delivery, Set Up, and Pick Up
RAIN POLICY: We still set up! You can also reschedule or get a full refund due to rain at no extra cost as long as you contact us the morning of your event.
OCCUPANCY: Users taller than 5 feet and less than 250 pounds are allowed on the dunking board.
CLEANING: All units are cleaned and sanitized before and after each use.
WHAT'S INCLUDED:
WHAT YOU'LL NEED:
Enough space for us to set up your rental

Water source and hose to fill up the dunk tank
Introducing the Yellow Carnival Dunk Tank: The Ultimate Splash-Tastic Experience!
Bring the vibrant spirit of a carnival to your next event with our Yellow Carnival Dunk Tank Rental! This eye-catching attraction is designed to add an exciting and refreshing twist to any gathering. Perfect for parties, fundraisers, corporate events, or community celebrations, our dunk tank rental promises hours of laughter, thrills, and good-natured competition.
Immerse yourself in a world of yellow-themed fun as participants take turns trying to hit the target, sending their friends, colleagues, or even local celebrities splashing into the cool waters below. The brilliant yellow color scheme adds a cheerful and energetic ambiance to the festivities, setting the stage for an unforgettable experience.
Constructed with safety and durability in mind, our Yellow Carnival Dunk Tank boasts top-of-the-line materials and design. Equipped with sturdy framework and a clear, reinforced tank, it provides a secure and transparent viewing experience for both participants and spectators. The tank is filled with crystal-clear water, creating a visually stunning spectacle as the brave volunteers take the plunge.
Renting our Yellow Carnival Dunk Tank is a breeze. Our professional team will deliver and set up the attraction at your desired location, ensuring everything is in perfect working order. We also provide clear instructions on how to operate the dunk tank, making it simple for anyone to join in on the fun.
By choosing our Yellow Carnival Dunk Tank Rental, you're not just renting a water-based activity; you're providing an opportunity for unforgettable memories, contagious laughter, and friendly competition. Watch as the vibrant yellow colors, splashing water, and jubilant shouts of excitement create an atmosphere that brings joy to people of all ages.
So, make a splash at your next event and book our Yellow Carnival Dunk Tank Rental today. Get ready for a drenching good time and a truly unforgettable carnival experience that will leave everyone soaked in happiness!