All of Our Party Rentals Are Sure To Bring Smiles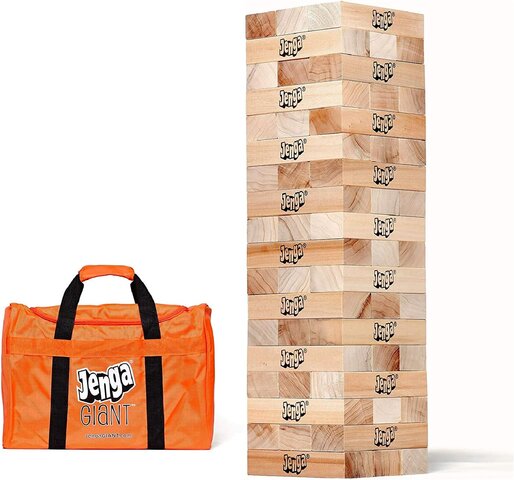 Giant Jenga




Available Booking Options

Up to 6 Hours

Displayed Price

7-10 Hours

+15%

Overnight
(Picked up after 7:00am)

+30%

Weekend Special
(Fri before 2pm - Sun after 4pm) or
(Sat before 12pm - Mon after 12pm)

BEST DEAL

+50%



Introducing the Ultimate Giant Jenga Rental – the towering classic game that takes your event to new heights of fun and excitement! Standing as a testament to both strategy and skill, this colossal version of the beloved Jenga game is designed to challenge players of all ages and levels.
Crafted from high-quality, precision-cut wooden blocks, this Giant Jenga set brings a touch of rustic elegance to your gatherings. Each block measures a substantial size, ensuring a heart-pounding experience as players take turns delicately removing pieces from the tower and strategically placing them on top. With a starting height of just a few feet, the tension and anticipation build with every move until the tower reaches a staggering 5 feet at its pinnacle.
Whether you're hosting a backyard barbecue, a corporate team-building event, a wedding reception, or a birthday bash, the Giant Jenga rental promises entertainment that's larger than life. Gather around as friends, family, or colleagues showcase their dexterity and steadiness in a battle of wits and balance. Laughter and cheers are guaranteed as the tower teeters and sways, waiting for that one decisive move that could make or break the entire structure.
Safety is paramount, and this Giant Jenga set is built to ensure a secure and enjoyable experience. The blocks are sanded smooth to prevent splinters, and their weight and dimensions are carefully calibrated for stability.
Take your event to soaring new dimensions with the towering excitement of the Ultimate Giant Jenga Rental. It's not just a game; it's a test of nerves, strategy, and camaraderie that will leave everyone talking long after the blocks have fallen. Book now and add a touch of colossal fun that will be remembered for years to come!