All of Our Party Rentals Are Sure To Bring Smiles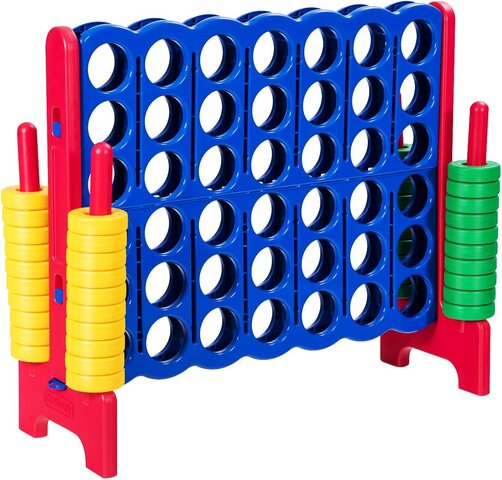 Giant Connect 4




Available Booking Options

Up to 6 Hours

Displayed Price

7-10 Hours

+15%

Overnight
(Picked up after 7:00am)

+30%

Weekend Special
(Fri before 2pm - Sun after 4pm) or
(Sat before 12pm - Mon after 12pm)

BEST DEAL

+50%



Introducing the Giant Connect 4 Rental – a larger-than-life version of the beloved strategy game that brings a dash of nostalgia and a heap of entertainment to your event! This classic game has been super-sized for maximum fun and engagement, making it a fantastic addition to parties, gatherings, and team-building activities.
Our Giant Connect 4 Rental offers a colossal twist on the traditional gameplay. Crafted with attention to detail, this oversized set features vibrant, colorful discs and a sturdy, freestanding frame, creating a visually captivating and interactive experience for players of all ages.
Standing at an impressive height, the Giant Connect 4 board showcases your guests' strategic thinking as they take turns strategically dropping their oversized discs to form a line of four in a row – horizontally, vertically, or diagonally. The game fosters friendly competition and encourages players to think several moves ahead, making it an excellent option for both casual play and more intense showdowns.
Whether you're hosting a backyard barbecue, a school carnival, a corporate event, or a wedding reception, the Giant Connect 4 Rental is sure to captivate participants and onlookers alike. Watch as players immerse themselves in the challenge, interact with one another, and celebrate their victories in a visually striking and memorable manner. The oversized discs are easy to handle, and the game's straightforward rules ensure that everyone can join in the fun without any hassle.
Add a dose of retro charm and engaging competition to your event with the Giant Connect 4 Rental. It's more than a game; it's a conversation starter, a strategic showdown, and a source of boundless amusement. Book now to secure the highlight of your event and create lasting memories that will have everyone talking long after the game is won!